My Digital Photography of
Crab Spiders,
Families Thomisidae and Philodromidae
The following spiders were photographed in the Metro-Detroit area, unless otherwise noted. If you know the scientific names of any of these crab spiders, please e-mail me at kozmicdreams@ymail.com. Photographs are sorted so that most recent photos are at the top of the page.
Many more spider photographs are available for your enjoyment---Click here for the main directory of spider photos.
Click here for info about purchasing prints of these photographs.
Click on any photo to see a larger view!
Slender Crab Spiders: genus Tibellus, family Philodromidae
Kensington Metropark, September 17, 2017
Holland Ponds, July 23, 2017
This spider was found outside on the hose on July 15, 2009. I have never seen one like it and could not immediately identify it---special thanks to James Buchkovich for providing its genus name. I hadn't even realized it was a type of crab spider, and originally placed it on the miscellaneous spiders page.
Crab Spider #4, family Thomisidae
It has been over a year since I've found a crab spider. I found this one on June 10, 2008 under a pile of dirty clothes in the basement, but I think it may have entered the house on some peony flowers I brought in as a backdrop for other insect and spider photos. Here is the spider photographed on a peony and rose from my yard. I also made three animations from some of the photos.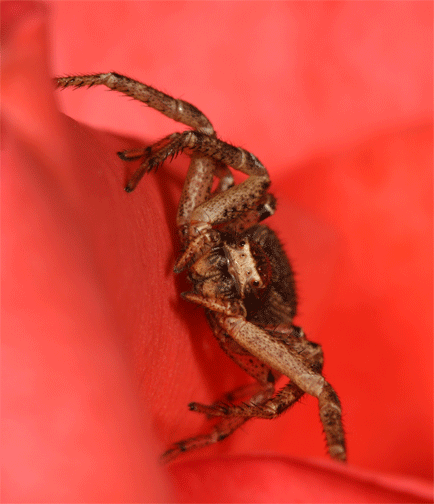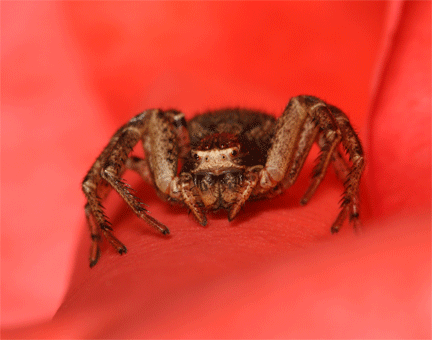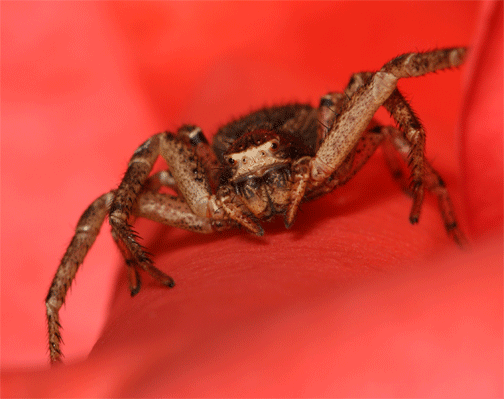 Crab Spider #3, family Thomisidae
I photographed this crab spider on April 29, 2007 on a tulip. Brian discovered it on the garage door.
Crab Spider #2, family Thomisidae
On October 10, 2006, I photographed this crab spider. It looks similar to the the one I photographed in May 2006, but the face is very different. This one was found outside in a lilac bush.
Crab Spider #1, family Thomisidae
The spider pictured below was found in my basement on May 30, 2006 coming down on a silken thread attached to the ceiling. Noticing that it was a species I had never seen before, of course I photographed it. Usually, these types of spiders are found outside in plants and flowers.
Go to the Main Directory of Spider Photographs.
Go to Insects, Spiders and Other Tiny Creatures Main Page
[ Cicadas ] [ Leaf-hoppers ] [ Ant Lions ] [ Praying Mantises ] [ Ants ]
[ Grasshoppers and Crickets ] [ Katydids ] [ Beetles and Other Insects ]
[ Bumblebees and Carpenter Bees ] [ Honeybees ] [ Wasps ] [ Flies and Other Flying Insects ] [ Centipedes and Millipedes ]
[ Moths ] [ Butterflies ] [ Skippers ]
[ Pandora Sphinx Moth ] [ Polyphemus Moth ] [ 5-Spotted Hawk Moth ] [ Anise Swallowtail ]
[ Jumping Spiders Volume 1 ] [ Phidippus jumping Spiders Volume 2 ] [ Phidippus jumping Spiders Volume 3 ] [ Baby Phidippus Jumpers ]
[ Biglegs the Jumping Spider ] [ Tufts & Mr. Greenfangs ]
[ Platycryptus undatus jumping spiders ] [ Platycryptus Babies ] [ Zebra Spiders ] [ Miscellaneous Jumping Spiders ]
[ Orb-Weavers Volume 1 ] [ Orb-Weavers Volume 2 ] [ Baby Orb-weavers ] [ Crab Spiders ] [ Miscellaneous Spiders ] [ Spider Webs ]
[ Home ] [ Artwork ] [ Photography ] [ Art Cars ] [ Virtual Museum ] [ Pets ] [ Favorite Links ] [ What's New / My Blog ] [ Guestbook ] [ For Sale ]
Copyright © 2007-2012 kozmicdreams.com. All rights reserved.
All materials contained on this site, including text, graphics and icons, are the property of kozmicdreams.com.