Lyle Sundog Gordon
the Tri-color Border Collie
Age 10 - 11 months
Click on each thumbnail to see the larger picture. Photos are arranged in reverse chronological order.
December 22, 2016
Playing with a log in the snow this morning.
Lyle by the tree.
December 20, 2016
He snuck into one of my photo shoots of the tree.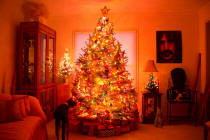 Tearing off the chair's covering...again.
December 16, 2016
Lyle is very strong. He finally was able to tear through the laundry bag he has enjoyed for about 10 months. I had to throw it away after this video because he was able to tear off small pieces and eat them.
Playing with rope.
December 11, 2016
The first snow of the year. Lyle LOVES the snow! He couldn't quite comprehend why his rope toy wasn't functioning as it normally did.
December 7, 2016
Lyle got in a few of the long exposures I was taking of the tree.
December 4, 2016
Holliday Park. Lyle tried out his extra-long leash today.
December 3, 2016
Highland State Park. Lyle wore his backpack today and helped carry trash out of the woods. He urinated on my favorite rock I was just about to photograph. He is getting more cooperative when I need him to be still while I'm taking photographs of the landscape, as you can see. In the 7th and 8th photos, he is laying on a special patch of rosette moss I have been observing.
December 1, 2016
Over the last month, several times a week, Lyle has been trusted in the house alone without being locked in his crate for 40-60 minute time periods. He didn't do anything bad at all, and I usually find him laying in his chair when I get back. I will gradually start to leave him for longer times.
November 30, 2016
The blockade to the living room was down, and Lyle snuck in and relaxed in front of the couch by the holiday tree.
November 29, 2016
He often drapes himself in the curtains by the front door. Today, he was laying down with the curtains tucked between his side and his hind leg.
He also snuck in the living room this evening while I was photographing the tree using long exposures. I was surprised he was still enough for this one to turn out halfway decent.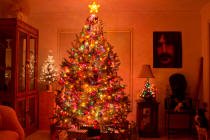 November 27, 2016
Brighton State Park. I had hoped to get a nice photo of Lyle by one of my favorite large rocks, but he was more interested in playing with a large stick he found.
He wore his backpack today.
November 26, 2016
Lyon Oaks County Park. I had hoped to photograph Lyle with this large beech tree. The moment we walked up to it, he put his front legs right into the hole! Unfortunately, he wouldn't go in a second time, and I could only get one photo of him sitting to the left of the tree. Next he enjoyed biting up a large stick nearby.
Lyle likes to get a good view of things, and often steps up on logs like this.
November 24, 2016
In his chair, with one ear flipped back.
November 23, 2016
Lyle was thrilled that he finally detached the piece of rope holding two plastic rings together.
November 20, 2016
Lyle is really silly about drinking his water. I have tried multiple bowls and he doesn't like any of them. He prefers to wait until it rains, then try to lick water out of the gutter spout extension. It has been pretty difficult getting him to drink water. He does seem to like drinking out of buckets, as he has decided that the water I pour into the bird bath and sometimes have setting by the doorwall is ok to drink. So I tried putting his large ceramic bowl from which he has sometimes successfully had drinks inside the bucket. Surprisingly, he seemed to like this set-up today, but unfortunately, it didn't last.
November 13, 2016
Maybury State Park. Lyle had a really great time. So many dogs are at this park. He had pleasant interactions with at least 15 dogs, and he was happy to be pet by several young children. The first photo was accidental, while I was putting my camera away, and I didn't even realize I took it until I was looking through the photos! I was glad to have captured this moment when a woman's dog met Lyle.
Lyle was even quiet for these swans, and just watched them intensely instead of barking at them.
November 12, 2016
Wolcott Mill.
Lyle jumped up on this graffiti-covered cement embankment all on his own. He even laid down and seemed to really enjoy this peaceful area along the Clinton River.
November 11, 2016
My dad brought over my cradle out of storage today. Lyle enjoyed getting into it!
November 8, 2016
Lyle playing with his rope.
Lyle loves to take the cover off the chair and roll around on the floor with it.
November 6, 2016
Crosswinds Marsh.
He was tired this evening.
November 5, 2016
Lyle's first visit to the Dauner-Martin Preserve. Lyle is making great progress with meeting other dogs and not being afraid. He had two very positive interactions with two dogs and their owners today. He makes everyone laugh as they pass him on the trail because he starts sitting and laying down and crawling toward them, wagging his tail, when they are still 40 feet away, so eager to meet them!
November 3, 2016
Lyle was playing with his back legs on his chair and his front legs on the ground.
October 31, 2016
Lyle playing with rope toy.
October 29, 2016
Waterloo Discovery Center.
October 25, 2016
Wrapping himself up in the blanket that is supposed to be covering his chair.
[ Darwin, the Amazing Border Collie's Photos and Stories ] [ Darwin's Videos ] [ Darwin's Experience with Tick Paralysis ]
[ Dogs of the Past ] [ African Clawed Frog Development ] [ Twista the Dancing Clawed Frog ]
[ Frank the Spadefoot ] [ Other Spadefoots ]
[ Pet Toads ] [ Wild Detroit Toads ] [ Wild Metro-Detroit Toads ]
[ Past Fish and Other Pets of the Past ] [ Pepper Loach ] [ Box Tortoises ]
[ Caring for Abandoned Sparrow ] [ Beatrice the Mallard Duck ]
[ Biglegs the Jumping Spider ] [ Tufts and Mr. Greenfangs ] [ Radinka the Platycryptus undatus ] [ Caring for Jumping Spiders ]
[ Home ] [ Artwork ] [ Photography ] [ Art Cars ] [ Virtual Museum ] [ Pets ] [ Favorite Links ] [ What's New / My Blog ] [ Guestbook ] [ For Sale ]
Copyright © 2007-2016 kozmicdreams.com. All rights reserved.
All materials contained on this site, including text, graphics and icons, are the property of kozmicdreams.com.