Lyle Sundog Gordon
the Tri-color Border Collie
Age 1 1/2 - 1 3/4 years old
Click on each thumbnail to see the larger picture. Photos are arranged in reverse chronological order.
September 23, 2017
Lyle's first time to Rose Oaks County Park.
September 20, 2017
Napping with his favorite, new, blue blanket.
September 16, 2017
Lyndon Park South.
September 11, 2017
Just napping with spikeball in his chair.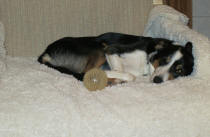 September 10, 2017
Huron Meadows Metropark.
September 9, 2017
Some photos of Lyle's lower lip coloring. He is also doing "poop lip" in the first two photos.
September 3, 2017
Oakwoods Metropark.
August 28, 2017
Lyle's chin has been changing color. It used to have only black skin under his lip. Then it looked like new pink skin was growing from the bottom of his lip. Now the pink is filling in with black areas. He is also getting new spots on his legs. I would have figured by almost 2 years old, his pigmentation would have been finalized, but apparently not.
August 26, 2017
Seven Lakes State Park.
Digging, hanging out, and rolling around by the lake. A northern water snake is on the log in the water.
A favorite tree I hope to fit inside some day.
August 18, 2017
Maybury State Park.
Here, he has burs stuck to him and is not too happy.
August 12, 2017
Independence Oaks County Park.
August 10, 2017
Laying on his blankets in his bed.
August 5, 2017
Deerfield Hills Nature Area.
On the dock. In the second photo, he looks like he might be thinking about jumping in, perhaps thinking of his new pool at home.
Lyle couldn't wait to dig.
Hanging out on the observation deck.
Putting on many expressions because he heard some sounds coming from behind me.
With some direction, he climbed up on this big rock.
Virginia creeper leaves were already turning red and falling onto the trail. Lyle put on his funny face where he bites his tongue while it's out.
Nothing like a good observation deck. Lyle made himself right at home in the corner on the second visit to the deck.
August 3, 2017
Just showing how he likes to lay on his crumpled blankets in his bed.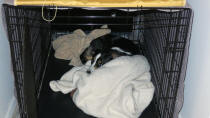 Napping in his favorite chair with Spikeball.
August 1, 2017
Lyle's new pool! He was afraid to go in it though. I picked him up and put him in just before I started recording. Hopefully he will enjoy it eventually. He is used to avoiding water when he's out hiking---he always jumps over creeks instead of walking through them, and when there is a wet section of trail, he finds the driest route. He also takes showers instead of baths, so he's not used to standing in water more than an inch deep.
July 30, 2017
Very late evening (actually July 31st). Sleeping on the kitchen floor in a funny position.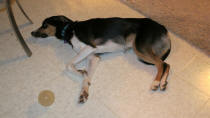 July 29, 2017
Highland State Park.
Later this evening, he fell asleep on the kitchen floor next to spikeball and his new ball.
July 27, 2017
I've never seen him sleep like this on his chair until late this evening (early morning of the 28th).
July 24, 2017
Early morning. Lyle decided to play with his 1980's frog, which he hasn't done in a long time.
July 22, 2017
Pinckney State Park. He seemed to remember Moss Paradise. He laid right down in the mossiest area and started rolling around with happiness.
Later this evening, he fell asleep on his Chill Pad with his stuffed fox.
Later, he curled up with his favorite blanket.
July 18, 2017
Sleeping on the floor with his favorite blanket.
Later, he moved to the cradle.
July 17, 2017
Wrapping himself up in and playing with his silky fabric.
July 15, 2017
Oakwoods Metropark.
Lyle found a wood frog. The first photo below has an arrow pointing to the frog.
July 14, 2017
Lyle playing with his indoor rope, which he doesn't do very often.
July 12, 2017
Here is a video of Lyle playing underneath his blanket. He covered himself with it, then proceeded to take his lobster toy out from the bin through the blanket covering his head!
Hanging out in his chair with spikeball.
July 11, 2017
Late night.
July 8, 2017
Waterloo Discovery Center.
July 7, 2017
Behind the curtains.
July 5, 2017
The early morning, just after people finally stopped doing fireworks.
July 1, 2017
Crosswinds Marsh.
By the first picnic table.
He really had his tongue in a funny position for a few of these!
My favorite spot to take his picture, but unfortunately, the sun cast too many shadows.
June 24, 2017
On the day he turned 1 1/2, Lyle visited Waterloo State Park. He enjoyed the sandy soil on parts of the trail that allowed for good digging and rolling around.
Here he is in front of one of my favorite trees, that a person can fit inside of.
Chillin' by the picnic table---he knows picnic tables and benches are break spots.
Here he is enjoying one of my favorite ponds to hear spring peepers (although at this time of year, it was a chorus of green frogs that was heard).
[ Darwin, the Amazing Border Collie's Photos and Stories ] [ Darwin's Videos ] [ Darwin's Experience with Tick Paralysis ]
[ Dogs of the Past ] [ African Clawed Frog Development ] [ Twista the Dancing Clawed Frog ]
[ Frank the Spadefoot ] [ Other Spadefoots ]
[ Pet Toads ] [ Wild Detroit Toads ] [ Wild Metro-Detroit Toads ]
[ Past Fish and Other Pets of the Past ] [ Pepper Loach ] [ Box Tortoises ]
[ Caring for Abandoned Sparrow ] [ Beatrice the Mallard Duck ]
[ Biglegs the Jumping Spider ] [ Tufts and Mr. Greenfangs ] [ Radinka the Platycryptus undatus ] [ Caring for Jumping Spiders ]
[ Home ] [ Artwork ] [ Photography ] [ Art Cars ] [ Virtual Museum ] [ Pets ] [ Favorite Links ] [ What's New / My Blog ] [ Guestbook ] [ For Sale ]
Copyright © 2007-2016 kozmicdreams.com. All rights reserved.
All materials contained on this site, including text, graphics and icons, are the property of kozmicdreams.com.