Lyle Sundog Gordon
the Tri-color Border Collie
Age 1 3/4 - 2 years old
Click on each thumbnail to see the larger picture. Photos are arranged in reverse chronological order.
December 23, 2017
Waterloo. Eddy Discovery Center.
December 22, 2017
Early morning (late at night on the 21st). I let him play supervised with this rubber ball (he chews it up unless he is watched). He decided to try his old antics of putting it in the dryer, like he used to do with spikeball.
Late afternoon, playing with blankets.
Late night (technically the 23rd), hiding under the couch.
December 21, 2017
Here is a video of Lyle destroying his squid toy.
December 20, 2017
Just resting in his bed.
December 14, 2017
Here is a short video of Lyle playing with a ball in the snow.
More photos by the tree, this time with the grinch propped up against Lyle, who didn't seem to mind at all. I decided to make my favorite photo black and white and colorize certain elements.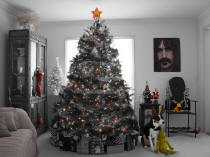 December 12, 2017
More photos by the tree just before sunrise and later in the afternoon. I decided to make my favorite photo black and white and colorize certain elements.
December 10, 2017
Maybury State Park.
December 8, 2017
In front of this year's tree. Lyle did an incredible job following the command, "don't move," for the shots with his reindeer headband on---He actually stayed still enough for me to do 13- and 20-second exposures!
Here is a video of Lyle staying still, showing the tree's lights in operation. Unfortunately, I could not use the same aspect ratio as the photographs, so it is cropped more than I'd like at the top and bottom, and the wall is showing on the left side, which was unavoidable because if I got closer, more of the top and bottom were lost.
December 4, 2017
Waterloo Discovery Center.
Excited about some turkey vultures circling in the sky at the bog.
Following laser pointer dot.
December 2, 2017
Waterloo Discovery Center.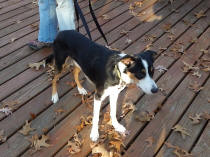 By my favorite tiny pine.
On the bog trail.
November 27, 2017
A new spikeball that seems to be made of the same material, but is a bit larger, and has bits of plastic inside. Although Lyle brought it up on his chair with him tonight, it doesn't appear that it will replace Lyle's favorite spikeball.
November 15, 2017
I decided to let him have the squid full-time, which ultimately means its destruction. The third and last photos show him spitting out fluff from its filling.
November 11, 2017
Pinckney State Park, "Moss Paradise" loop.
November 5, 2017
This is a long video showcasing Lyle's interactive Spikeball games. What is interesting about the games Lyle plays with his human friends is that he created them. He was not taught to bat at the ball, and aim and shoot like he does. He knows that game as "soccer" and will start playing that one specifically on command, if asked. He also learned to roll the ball out of his mouth on his own, which evolved into a rolling and catching game. He likes to switch between his two favorite games, especially when he has to retrieve Spikeball from a corner with his mouth---then the game almost always switches from soccer to "rollers and catchers."
November 4, 2017
Oakwoods Metropark.
November 3, 2017
This evening, he fell asleep on his chair with Spikeball. Here he is in a few different positions as he slept.
November 2, 2017
Late night (actually Nov. 3rd). He decided to take out his 1980's frog, which he hasn't had out in months.
October 31, 2017
After all the trick-or-treaters were done for the evening, Lyle decided to bring most of his blankets out to his play area in the family room. He then laid down in them.
October 29, 2017
Sleeping in his chair.
October 28, 2017
Maybury State Park.
October 27, 2017
Late night (actually the 28th). Waiting for Spikeball to do something on its own.
October 22, 2017
Behind the curtain, looking out the front window.
October 21, 2017
Proud Lake State Park.
By one of my favorite rocks.
Here, he is excitedly awaiting another dog coming down the trail.
October 20, 2017
Looking handsome with "medium ball."
Tired in his bed.
October 15, 2017
Waterloo Discovery Center.
October 9, 2017
This isn't a very good photo, but it's the first time Lyle's ever brought these three toys onto his chair at once.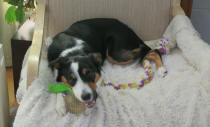 October 5, 2017
Lyle carried his blue blanket onto his chair and was sleeping with his nose covered up. I got the idea that he might enjoy being bundled up. Several times throughout the night, I covered him up and he seemed to enjoy it.
October 4, 2017
Just napping in his bed.
October 2, 2017
I wish I had captured more photos of this funny story. Lyle was playing "soccer" and spikeball went in his water bowl. The bowl had water in it and Lyle acted just like he did when spikeball landed in the toilet previously---he thinks he can't bite it out of the water. I kept telling him to get it out and he was hiding behind the plant, whining. Finally, Lyle came up with an ingenious solution---he decided to lick out all the water in the bowl! Still, even after that was accomplished, he was hiding behind the plant before he finally got spikeball out.
October 1, 2017
Pontiac Lake State Park.
Later this evening.
[ Darwin, the Amazing Border Collie's Photos and Stories ] [ Darwin's Videos ] [ Darwin's Experience with Tick Paralysis ]
[ Dogs of the Past ] [ African Clawed Frog Development ] [ Twista the Dancing Clawed Frog ]
[ Frank the Spadefoot ] [ Other Spadefoots ]
[ Pet Toads ] [ Wild Detroit Toads ] [ Wild Metro-Detroit Toads ]
[ Past Fish and Other Pets of the Past ] [ Pepper Loach ] [ Box Tortoises ]
[ Caring for Abandoned Sparrow ] [ Beatrice the Mallard Duck ]
[ Biglegs the Jumping Spider ] [ Tufts and Mr. Greenfangs ] [ Radinka the Platycryptus undatus ] [ Caring for Jumping Spiders ]
[ Home ] [ Artwork ] [ Photography ] [ Art Cars ] [ Virtual Museum ] [ Pets ] [ Favorite Links ] [ What's New / My Blog ] [ Guestbook ] [ For Sale ]
Copyright © 2007-2016 kozmicdreams.com. All rights reserved.
All materials contained on this site, including text, graphics and icons, are the property of kozmicdreams.com.